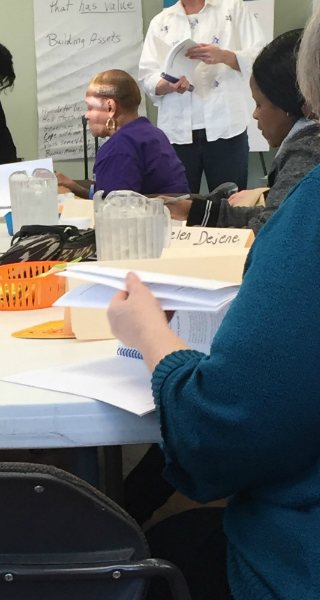 Metro Columbus Christian Job Corps is "a Hand Up" not a "Hand Out" Organization.
The Purpose of Metro Columbus Christian Job Corps is to provide a Christian perspective in which women and men in need are equipped for life and employment, a mission context in which women assist women and men assist men and all collaboratively support each other. MCCJC is a ministry that changes lives of men and women spiritually, emotionally, physically, economically and socially. In other words, it ministers to the whole person.

What Makes MCCJC Different?
There are many programs and ministries that seek to empower men and women and to equip them with Pre-employment & other needed life skills. CWJC/CMJC is a unique ministry/training center in the following ways:
Mentoring & Bible Study—We believe in the power of the Bible, as God's Word and principles for changing & living our lives. We believe that just as God seeks a relationship with us, so we seek relationships with others.

Needs Assessment & Goal Setting— Participants' unique needs are identified in a needs assessment. Participants identify short term and long-term goals. Mentors & facilitators assist Participants in staying on track to meet these goals. This is accomplished by weekly contacts.

One-On-One & Classroom-Based Training—
Guided by prayer & goals participants meet weekly in training & bible study.
Additional networking is done within the community to achieve the goals of the participant, such as continuing education, child-care resources, job opportunities, counseling, etc.